I'll use this space to present some of my projects. Here are a few—stay tuned for more!
---
Some Articles
August 2011
Save Money on Gas With These Apps and Websites
Entrepreneur.com 
May 2011
When You're Hungry for Sales, Consider These Lead-Gen Tools
Entrepreneur.com
November 2010
Four Ways to Get Paid Faster: The Latest Online Billing Tools Speed Up Receivables
Entrepreneur.com
---
Some Blogs and Websites
TheDAREforce.com (Sept. 2009 to Jan. 2010)
Inside Dorset House Blog (Aug. 2005 to Sept. 2008)
GalapagosArtSpace.com (Nov. 2003 to Jan. 2005)
Wordsupply.com (March 2000 to Present)

SmallPress.org (May 1999 to Jan. 2001)
DorsetHouse.com (Oct. 1996 to Sept. 2008)
---
Some Book Projects
by Christophe Porteneuve
Pragmatic Bookshelf (Nov. 2010)
My role:
---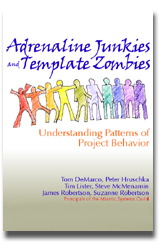 Adrenaline Junkies and Template Zombies:
Understanding Patterns of Project Behavior
Winner of the Software Development Jolt! Award, 2008
by Tom DeMarco, Peter Hrushka, Tim Lister, Steve McMenamin, Suzanne Robertson, and James Robertson
My role:
Developmental Editing
Book Production
Marketing
---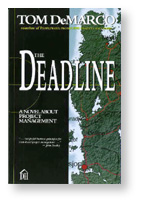 The Deadline: A Novel About Project Management
Winner of a Software Development Jolt! Productivity Award, 1997
by Tom DeMarco
My role:
Developmental Editing
Book Production
Cover Design, Page Design
Marketing
---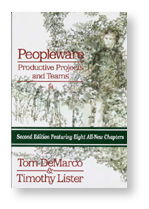 Peopleware: Productive Projects and Teams, 2nd ed.
A classic text on software project management.
by Tom DeMarco and Timothy Lister
My role:
Developmental Editing
Book Production
Marketing
---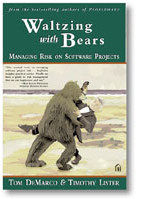 Waltzing With Bears: Managing Risk on Software Projects
Winner of the Software Development Jolt! Award, 2003
by Tom DeMarco and Timothy Lister
My role:
Developmental Editing
Book Production
Cover Design, Page Design
Marketing
---